CHITCARE Web Based ERP Application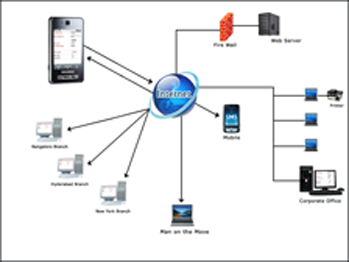 CHITCARE Web Application can be used as a chit fund web application by hosting on web server through browser.
CHITCARE is a versatile software solution that cuts down reports preparation time and increases quality and accuracy of information. Defaulters list, Guarantors information, Subscriber- wise ledger, Agent- wise Business, Automatic Intimation Card Generation, Balance Sheet, and Profit & Loss Statement etc. can be generated with. All these will lead to full utilization of man- power, quality and accuracy in information and image among subscribers.
Comprehensive Software Solution for Chit Fund Management
New Generation software solution – offers great flexibility, transparency, and complete control.
Latest Technology – allows direct interaction with customers, online auctions, SMS integration, Collection Terminals and mobile connectivity.
Complete synchronization of the data of branches online and generation of reports across branches instantly.
CHITCARE Web Application Features & Reports:
Masters Members
Chit Group Entry
Member Registration
Enrolment
Self Chits
Guarantors
Guarantor Registration
Court Details
Agents
Agent Registration
Agent Opening Balance
Accounts
Account Group Entry
Accounts
Cost Category
Cost Center
Standard Narration
Transaction Types
Account Budget
Account Tree
Suite File
Court
Vehicles
Staff Creation
Advocate
Suit Cause
Vehicles Allotment
Analysis Parameters
Hand Over To Legal Dept
Suit File Info
Places
Countries
States
Districts
Cities
Routes
Areas
Transactions Members
Member Receipts
General Receipts For Cash
Payments to Sub. Ref.(Not Comm. Groups)
General Receipts For Bank
Received Cheques
Issued Cheques
Bid Offer Letters
Auctions
Member Removal
Member Transfer
Payments to Removal Members
Sub. Ref. (Not Commenced Groups)
Bid Payments
Bad Debts & Credits Declaration
Bid Advance
Credit Balance Return
Re-allotment
Penalties
Bid Adjustment
Guarantors
Surety Forms Issues
Surety Forms Submission
Surety Forms Approval
Chit Pledge Information
Pledge Release
Surety Release
Agents
Agent Commission Bill Preparation
Agent Commission Payment
Agent Commission Payment (OPENING)
Agent Advance Payments
Agent Adjust Payments
Agent Commission Return
Accounts
Cash Receipts
Cash payments
Petty Cash Receipts
Petty Cash payments
Bank Deposits
Bank Payments
Debit Note
Credit Note
Journal Voucher
Memo - Journal Voucher
Memo - Cash Receipts
Memo - Cash payments
Memo - Bank Deposits
Memo - Bank Payments
Memo - Debit Note
Memo - Credit Note
Suite File
Suit Filed Expenses
Court Dairy Particulars
Decree Details
E.P. Declaration
E.P. Attachments
E.P. Closing
Suit Filed Settlement
Suit Filed Receipt
Security Roles
Roles
Role Permissions
Users
Users
Suggestions
Suggestions
Utilities
Company Setup
Branches
Accounts Posting
Service Packs
Database Backup
Re. Adj. Credit Installments
Cancel Member Receipt
Footers
Configure Footers
Wrong Postings
Reports Enrollments
Persons Register
Daily Enrollments Register
Enrolment Register
Business Statement
Allotment Register
Member Account Copy
Before Commencement Payment Position
Daily Summary
Collection Agent Wise Members List
Transfer Members List
Collections
Daily Collection (D.C.R)
Day To Day Collection Register
Collection Register
Monthly Collection Analysis
Cheque Collection
GroupWise Collection Statement
T.R. Book Wise Collection Register
O.B.C. Collection Of Our Branch At Other Branches
Area Wise Collection
Route Wise Collection
D.C.R. Summary
Daily Collection Adj. Register
Auctions
Bid Offer details
Dividend Statement
Monthly Minutes Register
Turnover Statement
Company Investment Statement
Bids Register-II
SB List for Month
Auction Chart
Group wise Dividend List
Bids Register-I
I Card Generation
Newly Commenced Auction Turn Over
Terminated Auction Turn Over
F.D.R. Release Statement
Minutes Filing Register
GroupWise Dividend List
Vacant Chits
Newly Commenced Auction Turn Over
Out Standings
Groupwise Outstanding
Collection Agent Wise Outstanding
Group Wise Outstanding(Month wise)
Town Wise
Business Agent Wise
Agent Wise Outstanding
N.P.S. Outstanding
Areawise Outstanding
N.P.S. Defaulters List
P.S. Defaulters List
Month wise Dues Statement
P.S. Outstanding
S.B. Outstanding
S.F. Outstanding
Defaulter List Installment Range
Cheques
Cheques Clearing Statement
Cheque Return Statement
On Hand Cheque Statement
Cheque Deposits Statement
BankWise D.C.R. Register
Adjustments
B.P. Adjustment Register
Bid Advance Adjustment Register
Agent Commission Adj. Register
Transfer Adjustments Register
Suit File Adjustment Register
Removal Adjustments Register
Removal Members
Removal Members List
Removal Member Account Copy
Refundable
Re-Allotment Register
Removal Subscription Refund Register
Notices
First Auction Letter
No Auction Letter
Open Auction Letter
Year Ending Notice
Cheque Return Letter
N.P.R.L.
P.R.L.
G.P.R.L.
N.M.R
Final Remainder Notice
Legal Notice
Specimen - B
Specimen - A
Notices Issued Register
Notices Issued Summary
Payments
Bid payment
Cancel Member Payments
Bid Payable Outstanding
Subscription Return/Refund Register
Refund Members Payment Register
Removal Members payable Register
Refund Members Payable Register
Agents
Agent Commission Payable Register
TDS Statement
Agent Commission Payment Register
Agent Commission and Tax Deduction
GroupWise Agent Commission
Agent Ledger
Agent Wise Enrol Register
Agent Ledger Detailed
Agent Ledger Summary
Accounts
Balance Sheet
Vertical Balance Sheet
P&L Account Date Range
P&L Account Detailed
Trial Balance Tree
Profit and Loss Account
Trial Balance Detailed
Cash & Bank flow Statement
Daily Business N Financial Information
Trial Balance
Petty Cash Ledger
Day Book (4-Column)
Accounts Ledger (Group)
Accounts Ledger
Day Book
Cash Book
Petty Cash Book
Bank Book
Receipt Register
Payment Register
Journal Register
Debtors List
Creditors List
Bills Receivable
Cash Flow
Bank Flow
Bills Receivable Ageing
Bills payable
Credit Note Register
Debit Note Register
Bank Flow
Bills Receivable Ageing
Bills payable
Bills payable Ageing
Interest Calculating
Bank Reconciliation Statement
B.R.S. (New)
CC Group Wise Breakup
Trading Account
Cost Category Summary
Cost Center Ledger
Group Summary
Suit File
Legal Position Statement
No of Suit Filed Statement
No of Cases Decreed Statement
No of EP's Filed Statement
Full & Part Recovery of Suit Filed Statement
Legal Daily Report
Suit Filed Proceedings
Decree But Not Yet Filed E.P's
E.P. Proceedings
Cheque Dishonored Cases
Consolidation
Group Wise Consolidation Report
Group Wise Consolidation for NPS
Group Wise Consolidation for SB
Group Wise Consolidation for PS
Group Wise Consolidation for SF
Group wise Collection
S.B. Wise Collection
S.F. Wise Collection
N.P.S. Wise Collection
P.S. Wise Collection
Day To Day Collection
Group wise Recovery Analysis
Newly Commenced Auction Turn Over
Terminated Auction Turn Over
Schedules
Company Commission
Company Commission Detailed
Dividend Earned On Own Chits
Bid Payable
Dividend Payable
Subscription Refunds
Credit Balances In Closed Series
Liability On Chits Drawn By Company
Chit Subscriptions
Arrears From SF Subscribers(Running)
Arrears From SF Subscribers(Closed)
Arrears From Subscribers Closed Series
Termination Of Chits
Commencement Of Chits
Member Account Analysis
Central Office Module
Auction Turn Over Particulars
Collection Analysis
Dues List Analysis
Branch Wise Recovery Analysis
O.B.C. Re consolation Statement
Vacancies and Dues
Company Investment On Vacancies
Substitutions,Transfers and Notices
Consolidation Bye-Laws & Enrollments
Suit Filed Cases
Suit Position
Full Recovery And Settled Suit Filed Cases
Branch Wise Collection Analysis
Bid Payable Daily
Suit Filed Cases
Group Wise Collection Analysis
Balance In Second Account
Second Account Balance Detailed
Enquiry
Branch Enquiry
Group Enquiry
Person Enquiry
Receipt Enquiry
Member Account Copy